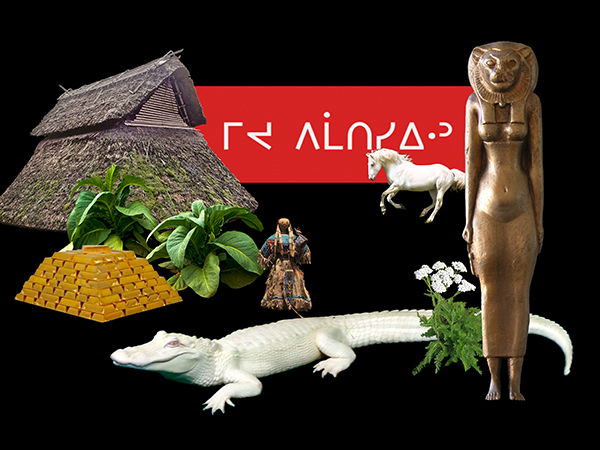 You are now on the entrance page for the Response-Hive City.

The Response-Hive City is an interactive web-based artwork created by Jude Norris.
Jude is a Plains Cree/Metis Nation multi-media artist creating highly contemporary artworks founded on traditional First Nations/Aboriginal culture and perspectives.
Your experience of this artwork will take you on a journey through 4 versions of the same urban landscape. They visually and symbolically exist simultaneously, like 4 parallel realities. Your choices will decide your unique path through all of them.
The ResponseHive City unfolds in what looks at first glance like a post-modern environment, yet in addition to spanning numerous cultures it also exists simultaneously in the past, present and future.
While navigating these landscapes, its helpful to keep in mind that they're created on the foundation of some fundamental Indigenous cultural paradigms. These paradigms are quite different from Western ones, and will inform and flavor your journey.
There are many hundreds of Indigenous cultures on Turtle Island (North America), and many different traditions amongst them. But there are also pan-tribal cultural commonalities, or 'base perspectives' and these are also foundational in the Response-Hive City.
They include the knowledge that:
– time unfolds in a circular manner.
– the Spirit-world is just as real as the physical one, and we as humans are
constantly connected to it, whether we're aware of it or not.
– all things – in all times – exist simultaneously, in an indescribable interaction
between and/or overlapping of the physical and spirit worlds.
– our non-human 'relatives' have a spirit, and all things are connected.
– in order to find the right path – through anything – above all else
it's important to follow your heart.
– we bring things into the physical world with our thoughts, intentions and actions,
and the ideas really worth bringing in are the ones inspired by spirit.
Interestingly, but not surprisingly, this and other Indigenous and tribal knowledge, until recently in stark contrast to and often negated by Western perceptions, are now becoming visible through and 'validated' by quantum science.
You'll find directions for how to navigate the Response-Hive City once you enter. They're on the right hand sidebar of each page. Please read them carefully before starting your journey.
Below each version of this 'non-linear landscape' there is also written information about who and what is present there. So you can delve more deeply into the elements & beings present in each environment if you want to (and of course I encourage you to).
The Response-Hive City was originally commissioned for the online exhibition 'History of the Future' which was conceived and curated by Jasmina Karabeg and Jennifer Pickering and included work by 8 other contemporary Indigenous artists. Once you've entered you can also read a more in-depth project description, as well as an excerpt of the curators' exhibition essay.
Prints of the Response-Hive City art are also available for sale.
There's contact information available at the bottom of each page.
All My Relations – Nitataminan (thank you) – and enjoy your experience.
(You may now click the golden button at the top right of this page to begin your journey)